ADD COST-OF-LIVING ADJUSTMENT (COLA) OR NOT?
Besides selecting your income start date or age you will have a very important option to include or reject based on your income payments in the future. Cost-of-Living Adjustments or COLA option on income received started with social security in 1975. COLA is an automatic annual increase in payments from 1% to 5% just like your social security income increases. This increase ensure that the purchasing power of income is not eroded by inflation which is running historically under 3% per year for the last ten years (see chart).
​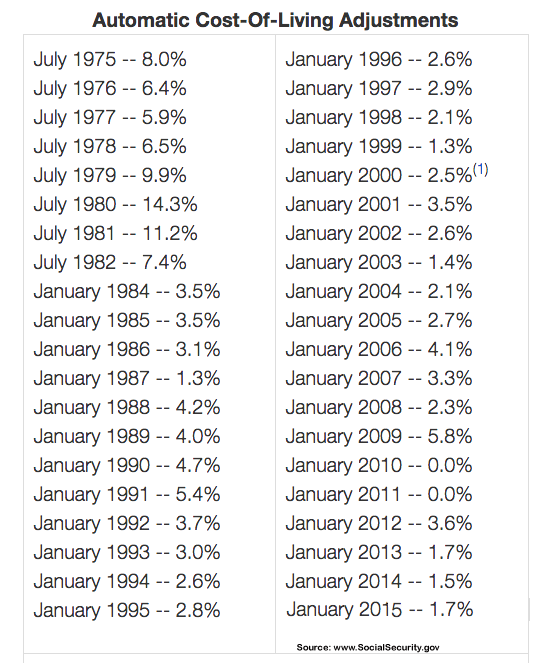 By selecting your annual increase at application time for your longevity annuity, income payments start off lower when selecting the COLA option. Lets take a look at a real life example.
Gary male age 70 deposits $50,000 into a longevity annuity and selects to start income in ten years at age 80 without COLA option. His annual income payment at age 80 will be $10,820 per year fixed until his death. If Gary selected the COLA 3% annual increase option at age 80 the first year payment would start off lower at $9,142 in the first year but increase every year by 3% compounded. See the chart.
​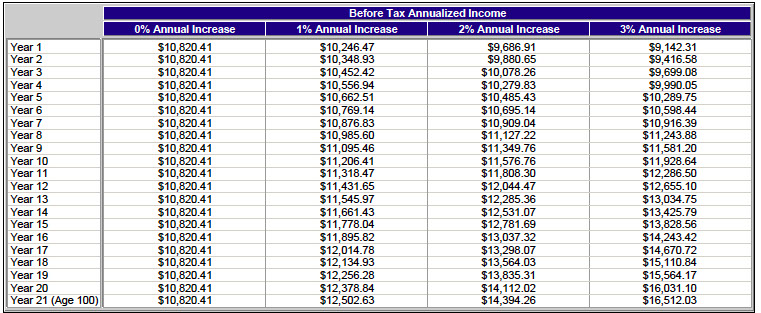 The next question that should come to your mind is which option is the better choice? It depends on how long you will live or better stated how long you will receive income payments for life. If we know how long we will live then we can calculate the "break even" year of both options. In the above example in year seven the COLA 3% annual payment ($10,916) amount is slightly higher than the constant payment of $10,820 per year. The total income received "break even" is in year twelve where total payments received equal each other. The COLA 3% increase will give more total dollars of income from year twelve on in most cases.